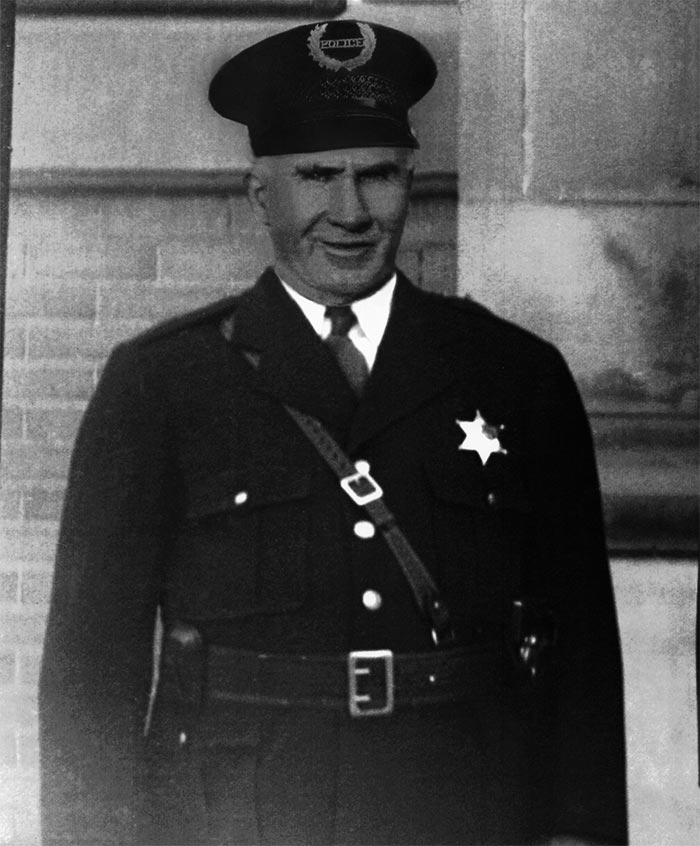 Miles City Police Officer James Fraser
Killed in the Line of Duty – August 7, 1935
On Wednesday, August 7, 1935, shortly after 7 pm, Officer James Fraser and Chief of Police Joseph Sullivan responded to a disturbance at 320 South Fourth Street. Officers were advised that a man by the name of George Criner was beating his wife to death.
When officers arrived on scene and attempted to enter the residence, they were met by George Criner who was highly intoxicated and enraged in the front screened in porch area of the residence. A struggle ensued and Criner wrestled Officer Fraser's gun away from him. During the struggle, Criner fired one shot. Criner and Officer Fraser wrestled out the door into the front yard. When Criner broke free with Officer Fraser's handgun, Chief Sullivan who was unarmed and Officer Fraser, whose gun was now in the possession of Criner, ran for the police car ten feet away for other weapons.
Criner shot both officers at close range, emptying Officer Fraser's handgun. Chief Sullivan was injured by the first shot. He was struck in the hip and the bullet lodged in his abdomen. Chief Sullivan ran down the alley to a nearby residence to summon other officers to the scene. Officer Fraser was later found lying dead in the yard. Officer Fraser was shot two times; once in the head and once in the shoulder. From the position of the bullets, it appeared that Officer Fraser may have been in a crouched position on his knees facing Criner when he was fatally shot at close range.
Custer County Sheriff Edgar "Tuffy" Taylor and Deputy Bill Cahill arrived on scene. George Criner was observed standing in the doorway of the residence, beating Officer Fraser's now empty handgun against the side of the residence in an attempt to extract the spent shells. Criner had obtained bullets from Officer Fraser's body after killing him. Deputy Cahill fired one shot from a rifle at Criner. Criner ducked and ran inside his residence. Almost immediately, Criner reappeared with his hands in the air. Criner was taken into custody and placed in the county jail.
Mayor Riccius and other officers had arrived on scene and a search was conducted of the residence. Criner's female companion, Marie Allsup of Havre, was found clinging to life in a pool of blood on the bedroom floor of the residence. Allsup had been beaten about the head and face with an iron stove poker. Allsup also had numerous lacerations on her face and shoulders from a large jack knife, which had two razor sharp blades. Allsup was rushed to the hospital. Allsup succumbed to her injuries hours later. Allsup passed away at 3:30 am on Thursday, August 8, 1935.
On September 4, 1935, George Criner was subsequently convicted of murdering Marie Allsup. Criner was sentenced to die by hanging. George Criner's death sentence was carried out on October 16, 1935. He was pronounced dead at 1:29 am. George Criner became the last person hanged at the Custer County Jail.