Miles City Animal Control is manned with one full time enforcement officer in 4.5 squared city limit miles that enforces city animal ordinances, Montana Code Annotated, county ordinances and the occasional livestock laws. The Animal Control Officer gets help from 16 city officers and 4 Custer County Sheriff's deputies that are on working rotational shifts when Animal Control is not available.
The Miles City Animal Control provides services for the City of Miles City and is contracted with Custer County for calls on demand with the resources available by the Animal Control Officer for the 3,783 square miles that encompasses Miles City.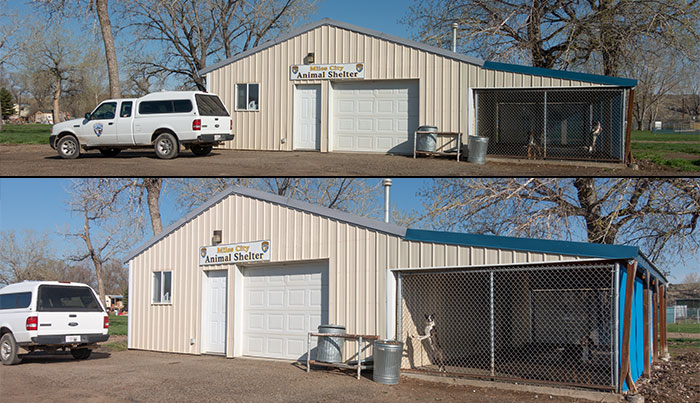 Our goal here at the Miles City Animal Shelter is to provide a safe and healthy place for animals until they can be returned to their owners or adopted out through the programs provided by the shelter.
Miles City Animal Shelter
1515 Slough Rd, Miles City, MT 59301
Phone: (406) 234-6113
Animal Control is dedicated to providing the best possible service to the citizens of Miles City. The Animal Control unit was created as a result of this dedication to the public. City leaders recognized long ago that without providing local animal care and control services, Miles City's residents needed to be served by a system that has resources to deal with animals to provide the level of service that is needed by Miles City.
Animal Control responds to a variety of calls including dogs barking, loose animals, animal cruelty cases, injured animals, and a host of other situations involving domesticated and wild animals.
Miles City's Animal Control Officer is authorized to investigate and enforce city codes pertaining to animals. Our Animal Control is dedicated to providing humane treatment for all animals in their care.
Purpose: The purpose of Animal Control in Miles City is to educate the public regarding responsible pet ownership and enforcing animal ordinances. We perform a variety of services that help animals as well as the public: rescuing injured or sick animals, controlling stray and potentially dangerous animals roaming at large, removing stray dead animals from private and public property and transporting lost pets to the animal shelter where their owners are unable to reclaim them.
The Animal Control officer is in action handling many routine, as well as emergency situations with pets and wild animals. One of the most important things that we do is to investigate animal bites. Animals that bite are quarantined and placed under observation to make sure the threat of rabies does not exist.
Other situations which we investigate are animal cruelty and abuse, complaints of animal noise annoyance (barking dog), unsanitary conditions, and abandoned animals.
Surrendering an Animal?
If you are planning on surrendering an animal please make sure it is done by planning ahead to do so. Example if you know you are moving, please do not wait until the last day to call about rehoming your pet. Please call ahead and let us utilize our Facebook page by posting your pet before it has to be removed from its home. By doing this it reduces the negative impact it has by moving the pet from one home to another home and avoiding the shelter entirely. This also saves having to pay a surrender fee and keeps limited kennel space available when needed . Please feel free to contact any of the Alternative Animal Surrender Placements we have listed below.
Alternative Animal Surrender Placement:
Help for Homeless Pets 406-896-1700 Billings, MT
Yellowstone Valley Animal Shelter 406-294-7387 Billings, MT
Circle 2 Rescue 406-413-1688 Billings, MT
Freckles and Tomcat 406-672-7358 Hardin, MT
Rimrock Humane Society 406-323-3687 Roundup, MT
Heart of the Valley Animal Shelter 406-388-9399 Bozeman, MT
Stafford Animal Shelter 406-222-2111 Livingston, MT
Where do I register my dog for a city license?
City Hall 17 South 8th Street at the water department desk. Please make sure to bring a current copy of your animals vaccination records.
Should I vaccinate my animal?
Regardless of the animal's lifestyle, Miles City requires that all dogs, cats over the age of 6-8 weeks be vaccinated against rabies. The primary reason is to prevent the spread of rabies. Rabies, while not currently widespread, is still prevalent in the wild and a threat to domestic pets.
You've lost your pet, what do you do?
The first thing to do is search your surrounding neighborhood.
Second is to notify animal control by calling dispatch at 232-3411 they will gather information and dispatch responders.
It's recommended to contact local veterinary facilities and shelter.
Dispatch has a lost/found animal form you can fill out by going to the dispatch office. Doing this greatly helps them out by freeing up phone lines for emergency use.
What can we do about feral cats?
Animal Control will trap feral roaming cats for residence. Animal control will insist the residents with feral cat issues to coordinate checking out a live trap from the shelter and nuisance cats procedures have been met first. By doing this it ensures room is available for the trapped cat and is also a time saving measure for animal control. The property owner that has the feral cat problem can monitor the use of the live trap during Animal Control's hours of operation for trapping. Monday – Thursday 7:30am- 3:30 pm & weather permitting.
Nuisance Cat?
Unless a cat appears to be distressed, ill, injured, too young, destroying property or in danger, Animal Control usually lets them find their way home. Sometimes what appears to be a "lost" or "abandoned cat" is actually a cat just exploring. Cats are natural explorers, please do not feed or handle them. This is typical cat behavior. If needed the city does have a code that can be utilized separate from dog at large as follows:
Sec. 4-2. – Running at large; tied or tethered animals.
Every person owning or possessing any animal or fowl shall not let that animal or fowl run at large and shall have adequate control over such animal at all times. No animal shall be left tethered or tied in an area as to impede access or exit to a public building, sidewalk or public area.
What can we do about feral cats?
Animal Control will trap feral/free roaming cats for residence. Animal control encourages citizens with feral cat issues to utilize there live trap check out at the shelter. This is also a time saving measure for animal control. The property owner that has the feral cat problem can monitor the use of the trap during hours that they see fit for trapping.
Barking Dogs: For a dog owner to disturb another resident's peace by allowing their dog to bark excessively and unreasonably. It is not a violation for a dog to bark. It is only a violation if the dog is barking loud and continuous. Any Officer who personally observes excessive barking can issue a citation to the owner. If our investigation of a barking dog does not result in such an observation, we will continue to respond to subsequent complaints in an attempt to observe the violation.
As an alternative, the complainant can request a form which allows them to provide information about other neighbors who have similar experiences with the same animal and are willing to say so at a court hearing. Once completed, this allows the Animal Control Officer to interview other witnesses and forward a case for prosecution.
Deceased Domestic Animals: Every attempt will be made to contact the owner and we will notify local Veterinarians. We will retrieve and transfer the animal to a holding area for 48 hours. If the animal is not claimed it will be wrapped in a plastic bag and the remains will be transported in a humane way to a landfill.
Running at Large Dogs or Cats: Any Dog or Cat, retrieved will be held at Miles City Animal Shelter. Every attempt will be made to reunite the animal with its owner. All expenses incurred will be the responsibility of the owner. If not claimed, the animal will then be available for adoption. If the animal is not adopted, it will be taken to another adoption program that is more widely available.
Rabies (Carrier) Animals: (Skunks, Raccoons, Foxes, Bats, Ground Hogs, Coyotes, Feral Cats, and dogs.) Rabid animals trapped in the township will be dispatched. Any of these animals found at large in the township that appear to be sick or infected will be dispatched. If a rabid animal is suspected of having contact with another animal or human, it will be processed using guidelines from the Health Department. Rules and Regulations relating to Animals can be found on the State of Montana Administrative Rules.
Please click to view the City of Miles City Animal related ordinances.
City Code Chapter 4 Animals Sec. 4-26. – Definitions Owner means any person owning, keeping or possessing a dog, cat or other domestic or household pet, [or other animal], including any person, group of persons or entity having temporary or permanent custody of, sheltering or having charge of, harboring, exercising control over, or having property rights to any animal.