We had two officers graduate the MLEA Basic Session #168 Friday, June 28th.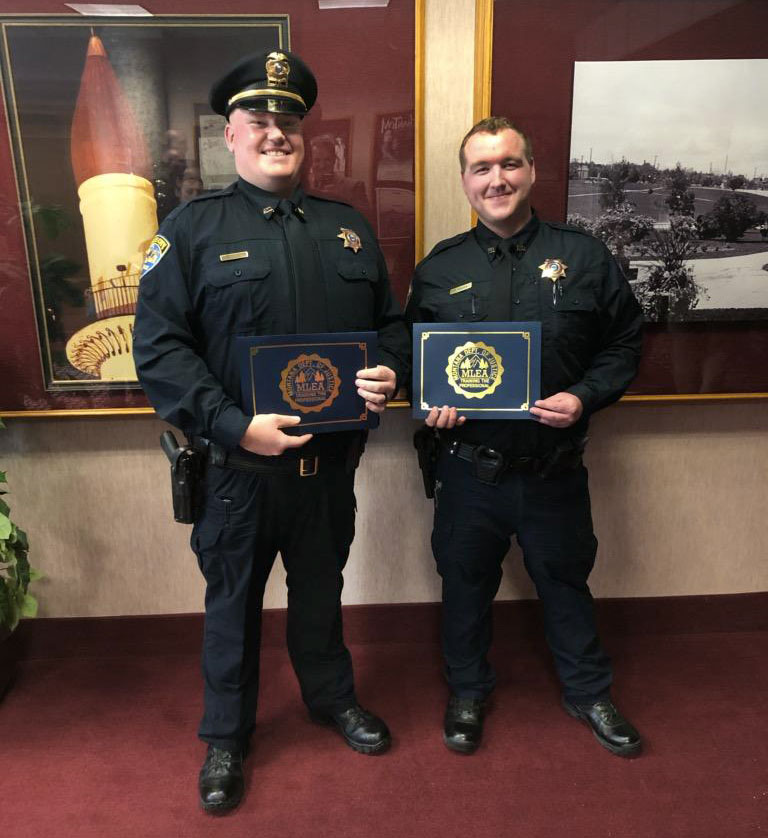 Officer Justin Andrews (on the left) and Officer Eli Alspaw (on the right).
Press Release from the Dept of Justice
June 28, 2019
Montana Law Enforcement Academy Graduates 53 New Officers
This morning, the Montana Law Enforcement Academy (MLEA) graduated 53 new officers who will serve various agencies across the state. The Academy is operated by the Montana Department of Justice; it provides basic and advanced training for state, county, city and tribal law enforcement officers throughout the state.
The ceremony took place at the Civic Center in Helena, and included remarks from Attorney General Tim Fox, MLEA Administrator Glen Stinar, MLEA Training Officer Jeff Wilson, and class representative Darren Stovall of the Billings Police Department. Montana Supreme Court Justice Beth Baker administered the oath of office.
In addressing the class, Attorney General Tim Fox said, "You have been selected to enter the exclusive and honorable ranks of a profession that will require you to frequently and consistently put the best interests of others ahead of your own." Fox added, "This place we call home is made all the more special by first responders like each of you who will risk life and limb to help and protect us. Let's teach our young people that public service is a noble calling, that the safety and blessings we enjoy today are made possible by courage and sacrifice."